If you're planning a DIY wedding, one of the many things you'll need to take care of is the guest book. Traditional guest books can be a bit boring, so if you're looking for something unique, check out these DIY wedding guest book ideas! From photo albums to shadow boxes, there's sure to be something here that will fit your personality and wedding style. So get creative and start remembering your guests in a fun and unique way!
Unique wedding guest book ideas
One of the best ways to make your wedding guest book unique is to incorporate a special theme. For example, if you and your spouse are huge fans of Harry Potter, consider using a Hogwarts-themed guest book. You can even have guests sign their names with a quill! If you're more of a nature lover, try a rustic guest book made from tree bark or leaves. Your guests will love adding their own personal touch to your special day.
Another way to make your guest book unique is to add photos. This is a great way to capture memories of your big day and ensure that everyone has a memento to take home with them. You can either add photos throughout the pages of the guest book or create a special photo album for guests to sign. Either way, your guests will appreciate being able to look back on your wedding day and see all of the happy memories captured in one place.
Finally, consider using a guest book that doubles as a guest registry. This way, not only will guests be able to sign their names, but they'll also be able to add gifts that they'd like to receive from you. This is a great way to make sure that everyone leaves your wedding with something memorable. Plus, it's a great way to keep track of who gave what so that you can send thank-you notes later on. By following these simple tips, you can create a unique guest book that everyone will love!
Wedding guest book alternatives
One popular way to use these is to set up a table at the entrance of the reception area with several blank books for guests to fill out. You can either provide pens or have a few different colors available. This way, guests can choose to write something special to the bride and groom or simply sign their name.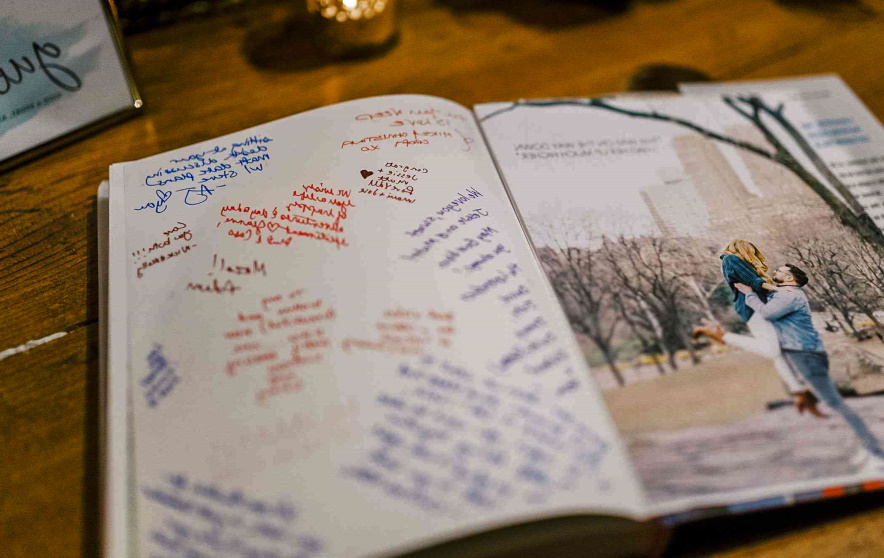 If you are looking for something more unique, there are also companies that create custom guest book alternatives. You can provide them with your own photos and text to be used on the pages. This is a great way to make sure that your wedding day is commemorated in a one-of-a-kind way.
When it comes to deciding what type of wedding guest book alternative to use, it really depends on your own personal style and the overall theme of your wedding. There are many different ways to go about it, so take some time to browse through all of the options before making a final decision.
One last thing to keep in mind is that you don't necessarily have to use a guest book at all. If you are having a small wedding, you may not need one at all. However, if you are expecting a lot of guests, it may be a good idea to have one so that you can keep track of everyone that comes and goes.
Whatever you decide, make sure that you take the time to find the perfect wedding guest book alternative for your big day. With so many different options available, you should be able to find something that suits your own personal style and taste perfectly.