The weeks leading up to your wedding can be some of the most anxiety-inducing ones of your life. It's easy to let the pre-wedding jitters take control between stress over seating arrangements and worrying about whether you chose the right flowers. But don't worry – we've got some tips from experts on beating pre-wedding anxiety and enjoying this special time. Read on for advice from planners, caterers, and more!
Pre-wedding day mental wellness tips for brides
Understand that pre-wedding anxiety is normal
If you're feeling a little anxious about your upcoming nuptials, know that you're not alone. "Pre-wedding anxiety is incredibly common," says Dr. Carla Marie Manly, a clinical psychologist and author of Joy from Fear. "It's so common that it's the norm rather than the exception."
Don't try to do everything yourself
One of the best ways to combat pre-wedding anxiety is to delegate tasks and relinquish control. "Trying to do everything yourself is a recipe for disaster," says Manly. "Enlist the help of family and friends, and delegate, delegate, delegate."
Make time for self-care
When you're feeling stressed, it's important to take care of yourself physically and emotionally. "Make sure to schedule regular exercise, healthy eating, and plenty of relaxation," says Manly. "This is not the time to try a fad diet or start a strenuous new workout regimen. Instead, focus on taking care of yourself gently, sustainable ways."
Talk about your anxiety with someone you trust
Sharing your fears and worries with a trusted friend or family member can be incredibly helpful. "Talking openly about your anxiety will help to dissipate some of its power over you," says Manly. "It can also be helpful to talk with a therapist or counselor who can provide expert guidance and support."
Focus on the positive
When you're feeling anxious, it's important to focus on the positive aspects of your upcoming wedding. "Remember why you're getting married in the first place," says Manly. "Focus on your love for your partner and the excitement of starting your life together. This will help to counterbalance any negative thoughts or feelings."
Following these tips, you'll be sure to beat pre-wedding anxiety and enjoy every minute of your big day!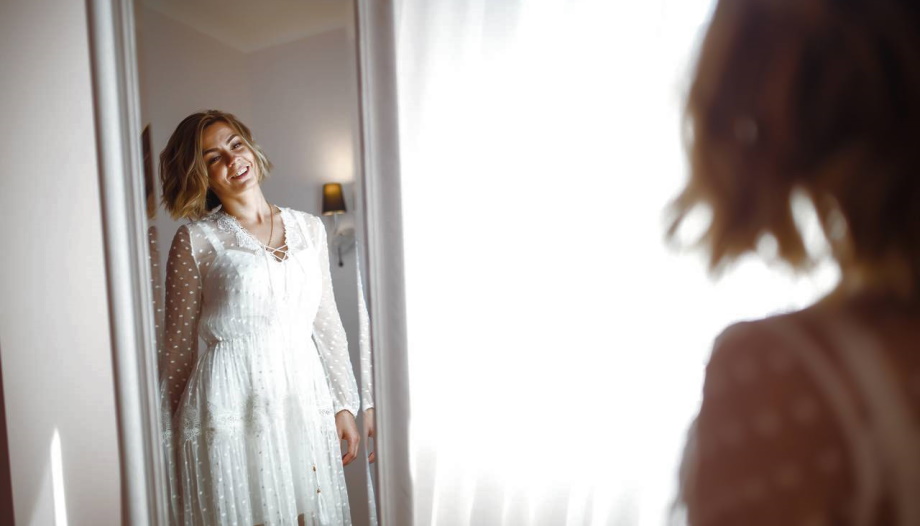 The many emotions of a bride before her wedding
The night before her wedding, a bride is typically a mixture of emotions. She may be feeling everything from excitement and anticipation to nerves and even a little bit of sadness. While it's normal to feel all of these things, the bride needs to remember that this is one of the most memorable days. Once she walks down the aisle, she'll be surrounded by family and friends who love her and are there to support her. This is the start of a new chapter in her life, and it's an incredibly exciting time. Again, there may be some nerves and jitters, but this is a day to look forward to with happiness and joy.
No one ever said that planning a wedding would be easy. Between making all of the arrangements and dealing with all of the stress, it's no wonder that brides can sometimes feel overwhelmed. But what are some of the emotions that a bride may experience before her big day? Here is a look at just a few.
Excitement is probably the most common emotion that a bride experiences leading up to her wedding. After all, she is marrying the love of her life!
Nervousness – A mix of excitement and nerves is common as well. All of the preparation can be nerve-wracking, but it's also exciting!
Anticipation – A bride may feel antsy as the big day gets closer and closer. She can't wait to marry her groom!
Happiness – A bride is likely to feel nothing but pure happiness when she starts planning her wedding.
Stress – Unfortunately, stress is also a common emotion for brides. There is so much to do, and sometimes it can all be overwhelming!
No matter what emotions a bride is feeling before her wedding, one thing is for sure: it will be a day that she will never forget!